Hey everyone!
I just wanted to share some great promo's that edenfantasys are currently having, you know, share the savings!
If you've been a follower for a while, you've probably seen other posts by me about this site. I am always finding new things to add to my wish list! Edenfantasys is mainly an adult webstore (I don't want you to click a link and be totally offended without any warning), but they do offer awesome clothing and bath and body products that I just love. They also have an excellent return policy in case something doesn't fit or just isn't what you wanted.
So I know many people are short on cash these days, believe me I'm right there with ya! Another reason I really enjoy shopping on edenfantasys is because of their reward points program. You earn points for interacting with the site (logging in, comparing products, adding something to your wish list) and also for making purchases. The points are redeemed for cash, 1 points = 1 penny. They add up! And it's super easy to redeem them, it's instant! I just love to check out their new stuff all the time, so I earn points pretty fast, and then use them to buy something I've been wanting for a while. It's great!
Here's a few more of my recent wish list items:
Don't they all look just amazing?! If you're interested in buying something from edenfantasys, you're in luck because they have a great promo code out! Use the code HOT4YOU to get 25% off sitewide until Feb. 15th. That's a great discount! (Especially if you have a few points you can convert to cash, you'll get a great product at an even better price.) Also there is FREE SHIPPING on orders over $35 as usual. Yay!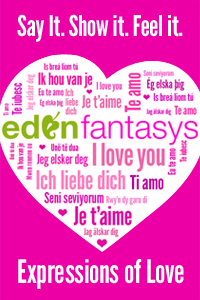 *I was compensated for writing this post; all thoughts and opinions are my own.*